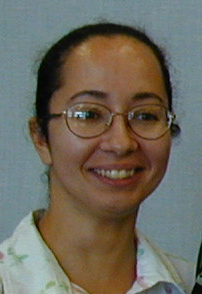 Name: Theresa Pinilla
Description: REVEL 2005 teacher, Stockbridge Middle School, Stockbridge, Georgia
Five years ago, if someone had told me Iíd be here, I would have laughed. I have come to science and science education by a roundabout route. As a student, science did not particularly interest me, at least not the way I was taught. I actually majored in Art History in college, avoiding science classes whenever possible. I always thought I would teach young children. It was as an adult, teaching, that I really discovered the fun of science. The fact that Iíve always enjoyed nature probably helped. Since then, I have gone on to teach at the middle school level and taken courses to become certified to teach science.
Since 1999, Iíve been involved in a project called SAPELO, which brings Georgia teachers together with researchers on Sapelo Island. On this barrier island, accessible only by boat, we assist the scientists with data collection and sampling. I am tremendously excited about REVEL and the possibilities of the VISIONSí05 cruise. Canít wait to get started!