home
highlights
utilities
Join the Expedition!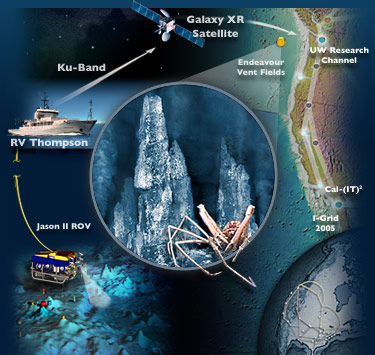 September 1st to October 4th
Please join us on this expedition to the underwater volcanoes of the northeast Pacific Ocean. During this 34-day research cruise, scientists aboard the University of Washington's Research Vessel Thomas G. Thompson will use underwater robots and high-definition video cameras to explore, sample, monitor, and map one of the most extreme environments on Earth.
"DEEP" APPRECIATION OF BOB BALLARD
IMPROVISATIONAL THEATER-IN-THE-ROUND:
HDTV Broadcast of Sea-going Research
image highlights

A graphical representation of the VISIONS O5 cruise.
Expedition locations on the Juan de Fuca Ridge and Nootka Transform fault.